---
I could write a lot about needles, and about my changing relationship with them throughout the last 20+ years. Maybe I will consider them in that, more thoughtful way, in another place. I've realized that I write differently based on format. I'm trying to keep this-y-here site more "here's what's up" rather than personal essays.
But yeah — needles. Right now, I am comfortable with them, mostly.
This is good, considering that I've been giving myself injections for the last week. Mixing the medications together seems easier now, less confusing and certainly goes faster. I don't necessarily need J as my chemistry assistant now, even though it's nice to have someone to say "man, that stung way more than usual," to, or exclaim "look at that wild bruise!"
Depending on how you count, there are between 9 and 11 items required for this little ritual every night. Our first sharps container is full, and more medication is on its way to our house today.
Looking at those giant initial boxes, I found it hard to believe it was all medication (though let's be real, there's a lot of packaging involved) that would end up in my body. But I'll have even more stuff to put into my body through at least sometime next week. Then they'll "harvest my eggs" which sounds very autumnal, but also is such a weird word and makes me feel like a farm field or livestock.
After Sunday's tests, the nurses upped my dosage, which meant that by mid-week, the body aches were getting more intense. This morning, I felt like I had the flu. A heavy, everything-hurts-ache sunk into my bones and joints as I was sleeping.
Our pre-op visit on Wednesday gave us some details on surgery and recovery, but honestly, the biggest takeaways I had were:
Thankfulness for hilarious stoner dude at check-in
It sounds like it will take me 2-3 weeks to recover
Reassurance that clip-art on bootleg signs in medical offices is almost always HILARIOUS
I was too tired between then and now to write much of anything. Tired from the medication, but also just worn out by the number of phone calls, hours on-hold, mis-transfers, voicemails, portal messages, etc. that ate up a good portion of Wednesday and Thursday.
The doctors and most other people at the Cancer Center are great, but it's in the handoffs  between other UMHS departments, among staff and nurses, in working with outside organizations, in working with pharmacies, etc. where inevitably something gets dropped.
I've dealt with all this sort of stuff plenty of times before. The circling back and being assertive and my own advocate, etc. But never on this compressed of a timeline, which makes it all feel different, and more stressful — particularly because I know it's never the scheduler/clerk's fault — it's usually the people up the chain who have to check a box or fix the fact that I'm on the wrong list.
At one point, I just wanted to ram through a wall — ala Kool-Aid Man — into one particular clinic and exclaim "WHO is in CHARGE here?!" I didn't, but that might have been kinda awesome, right?
But, thankfully, by the time Thursday was done, prescriptions were called back in correctly and on the way, and clinic visits correctly on the schedule. I rewarded myself with a chapati (and J got pizza), courtesy of a kind gift card from our pal Tom (thanks, Tom!).
When the nurses originally told me I'd add a new drug into my regimen tokay, I joked that because it was Halloween maybe I'd turn into a werewolf.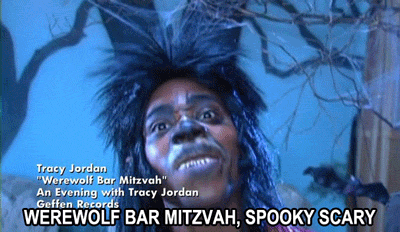 Doesn't look like we're far enough along for that to happen, though, so sorry, friends, I will not be becoming a werewolf tonight… OR WILL I?